About this Violin Collection
I love violins. Couldn't rationally explain why, but am drawn to the object's beauty and sound. By chance, all the violins who have mattered in my life are still in my possession, wonderful souvenirs and "time machines." I play them alternatively, depending on next concert's program and venue.
I've been particularly interested in unusual violins and the creative process of daring makers. It takes guts to make a violin unlike any other in a field where conformity is rewarded by teachers, competition judges, and soloists — who all want a Stradivarius look-alike. Instruments from the classical period were out of my financial league, so I've focused on modern violins from the 19th century forward. There are treasures to be found in the high-quality work by contemporary, little-known, and/or underestimated makers.
Contact
The point of having a collection is to share it. Don't hesitate to contact me. You should get a reply within 2-3 days. contact@isabellesviolins.com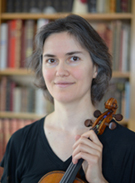 About Isabelle
Isabelle de Brossin de Méré (née Cattin) is a free-lance violinist and computer programmer based in Geneva, Switzerland. She holds degrees in violin performance from the Conservatory of Geneva (teachers Margarita Karafilova and Robert Zimansky), and in computer science from Texas A&M University-Corpus Christi. She was introduced to violin setup at the University of New Hampshire Violin Craftsmanship Institute. Depending on life's opportunities, she has focused more on music or on computer programming. Nowadays she mainly performs chamber music, in addition to raising her children.