This violin's remarkably broad model (36.5 cm) pays homage to Maggini, but with very shallow ribs (26-28 mm) and low arches, which give it an unusually flat appearance. At the bottom of the symmetrical two-piece back, a dedication to Cesare Trombini is inlaid into a third piece of wood (with imagination, one can see the violin's legs open). The wide-grained spruce of the belly is "backwards" — its annual rings narrowing towards the edges. Similarly, the maple of the head is turned "backwards" — its stripes showing on the front and back sides of the scroll. The soundholes sit surprisingly low and far from the flanks,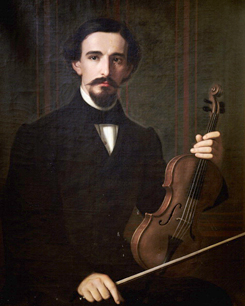 Portrait of Cesare Trombini, oil painting by Domenico Peterlin. Musei Civici of Padua.
their cut slightly angled towards the sides of the body. Plates are quite thick, especially the back (5.2 mm in the soundpost area), and extend over the rib line by as much as 4 mm. Typical of the Venice region, and of Chiocchi, the triple purfling (black-white-black-white-black) is worth noting. The overall impression is of a bold, highly personal, completely original violin.