This violin is enchanting from all points of view. As you can see, the choice of wood is breathtaking and the workmanship impeccable. I find the deeply-figured single-piece back and matching ribs/head stunning. The table's wide, consistent grain (with colors inverted) runs perfectly straight. The soundholes, expertly proportioned, stand elegantly amidst a well-developed arch, full in the flanks. Their design incorporates the best elements of the classical makers: long but not too pointy, rounded but not flabby, neither too slender nor too open, leaning just slightly. The notches draw tiny equilateral triangles. The original, short neck was angled to reach a modern projection, but not reshaped. The thin, fair varnish is beautifully clear, letting light gleam into the highly reflective ground. One can further appreciate fine purfling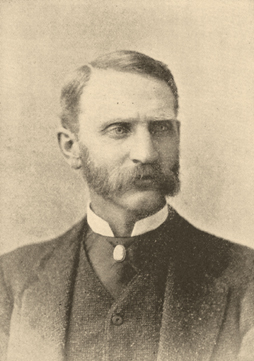 J.C. Hendershot, photograph published in 1889.
(with thin black strips), which, because of its position far from the edges, has space to form graceful miters within the flat and large corners.